U.S. and international mediators try to reach deal that would allow humanitarian aid into Gaza
Hopes for a brief ceasefire in southern Gaza to allow foreign passport holders to leave the besieged Palestinian enclave and aid to be brought in were dashed on Monday, with Israeli bombardments intensifying ahead of an expected ground invasion.
Diplomatic efforts have been underway to get aid into Gaza, which has endured unrelenting Israeli bombing since the Oct. 7 attack on Israel by Hamas militants that killed 1,300 people, including a number of Canadians (new window).
Israel and its allies are also seeking to secure the release of 199 hostages that Israel says were taken by Hamas back into Gaza. Among them are citizens of several nations.
Are you a Canadian in Israel or Gaza? We want to hear about what you're experiencing. Send an email to ask@cbc.ca.
Israel has imposed a full blockade and is preparing a ground invasion to enter Gaza and destroy Hamas, which has continued to fire rockets at Israel since its cross-border assault. On Monday, rocket-warning sirens sounded in several towns in southern Israel, the Israeli military said.
Israeli troops and tanks are already massed on the border. Much of Hamas's military infrastructure is concealed in urban areas, where street-by-street fighting would likely cause mounting casualties on both sides.
WATCH l Snipers on high, close terrain challenges for ground operation: military expert:
CAN ISRAEL'S GROUND OFFENSIVE AVOID A HUMAN CATASTROPHE?
More than a million Palestinians have been warned to leave their homes ahead of Israel's ground invasion. The UN says the threat has exacerbated a humanitarian crisis in Gaza. But can Israeli forces avoid killing civilians in their fight with Hamas? And what challenges will they face in urban warfare?
Desperate conditions in Gaza
Authorities in Gaza said at least 2,750 people had so far been killed by the Israeli strikes, a quarter of them children, and nearly 10,000 have been wounded. A further 1,000 people were missing and believed to be under rubble.
Israeli aircraft bombed areas around Gaza City's Al-Quds hospital early on Monday and ambulances at the facility were unable to move due to the strikes, Palestinian media reported.
Israel has urged Gazans to evacuate south, which hundreds of thousands have already done in the enclave, home to about 2.3 million people. For a third day, Israel's military announced a safe corridor for people to move from north to south between the hours of 8 a.m. and noon.
Hamas has urged people to stay in their homes, and the Israeli military on Sunday released photos it said showed a Hamas roadblock preventing traffic from moving south.
For the fifth consecutive day, Gaza has had no electricity, pushing vital services, including health, water and sanitation to the brink of collapse, and worsening food insecurity.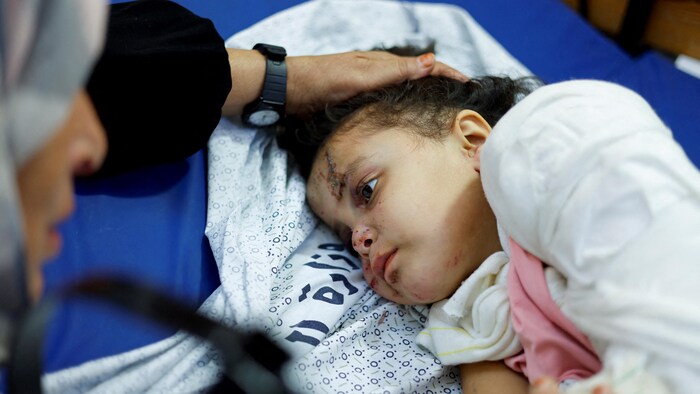 Israel prepares to invade Gaza
Reserves of fuel at all hospitals across the Gaza Strip are expected to last only around 24 more hours, putting thousands of patients at risk, the United Nations humanitarian office (OCHA) said early on Monday.
In Tel Al-Hawa in Gaza City, Israeli planes bombed a main road and damaged surrounding houses, forcing hundreds of residents to take shelter in the Red Crescent's Al-Quds Hospital, residents said.
Israeli planes bombed three headquarters of the Civil Emergency and Ambulance Service in Gaza City, killing five people and paralyzing the rescue services in those areas, health officials said.
In a bombing of a house belonging to the Abu Mustafa family in Khan Younis refugee camp, five members of a family were killed.
Suhail Baker, 45, said he woke up to the sound of an explosion from an Israeli airstrike that destroyed the house of his neighbor, killing five people.
We woke up in horror, and we see them dismembered, it took a long time to remove the rubble by the bulldozers to recover the bodies, said Baker.
Potential border agreement hits snag
As the humanitarian crisis deepened, with food, fuel and water running short, hundreds of tons of aid from several countries have been held up in Egypt pending a deal for its safe delivery to Gaza and the evacuation of some foreign passport holders through the Rafah border crossing.
Earlier on Monday, Egyptian security sources had told Reuters that an agreement had been reached to open the crossing to allow aid into the enclave.
WATCH | Canadians trapped in Gaza have no way out:
CANADIANS TRAPPED IN GAZA STILL HAVE NO WAY OUT
Canadians desperate to get out of Gaza wait for a sign that it is safe to head to the border. Canada's Foreign Minister Melanie Joly is lobbying Israel for a humanitarian corridor to help nationals escape, but also to send aid in.
But Israeli Prime Minister Benjamin Netanyahu's office said in a statement: There is currently no truce and humanitarian aid in Gaza in exchange for getting foreigners out.
Chief military spokesperson Rear Admiral Daniel Hagari also said there was no Gaza ceasefire and that Israel was continuing its attacks.
Hamas official Izzat El Reshiq told Reuters that there was no truth to the reports about the opening of the crossing with Egypt or a temporary ceasefire.
Egyptian Foreign Minister Sameh Shoukry said on Monday that the Israeli government had yet to take a stance that allowed the crossing to open, after days of bombardment on the Palestinian side. He called the situation faced by the Palestinian people in Gaza dangerous.
Reuters journalists said a small crowd of people had gathered near the Rafah crossing waiting to enter Egypt.
More than one million people — almost half the total population of Gaza — have been displaced within the enclave, the United Nations said. The UNWRA agency said it was struggling to cope with their needs.
About 500,000 people, nearly one quarter of Gaza's population, were taking refuge in UN-run schools and other facilities across the territory, where water supplies were dwindling, said Juliette Touma, spokesperson for the UN's Palestinian refugee agency.
Gaza is running dry, she said.
People across Gaza have severely limited access to clean drinking water. As a last resort, people are consuming brackish water from agricultural wells, raising concerns over the spread of waterborne diseases.
U.S. concerned about occupation, wider conflict
U.S. President Joe Biden has sent military aid to Israel but also stressed the need to get humanitarian aid to Palestinian civilians and urged Israel to follow the rules of war in its response to the Hamas attacks.
Biden told 60 Minutes in an interview broadcast Sunday night that an Israeli occupation of Gaza would be a big mistake. He said Hamas needs to be eliminated, but that a path to a Palestinian state needs to be preserved.
WATCH l Hezbollah, Iran watched warily by Washington:
FEARS OF A WIDER MIDDLE EASTERN CONFLICT GROW
Fears of other actors joining the Hamas-Israel conflict grow as the U.S. sends more warships to the Eastern Mediterranean — meant deter to Iran and Lebanon-based Hezbollah.
U.S. officials have warned that the war between Israel and Hamas could escalate after cross-border clashes between Israel and militants from Lebanon's Iranian-backed Hezbollah.
American warships have headed to the region and Israel said on Monday it would evacuate residents of 28 villages on the border with Lebanon after one came under a missile attack by Iranian-backed Hezbollah on Sunday. Israeli media said a civilian was killed.
Thomson Reuters with files from CBC News and the Associated Press